Eggplant melanzana with chunky heavenly san marzano sauce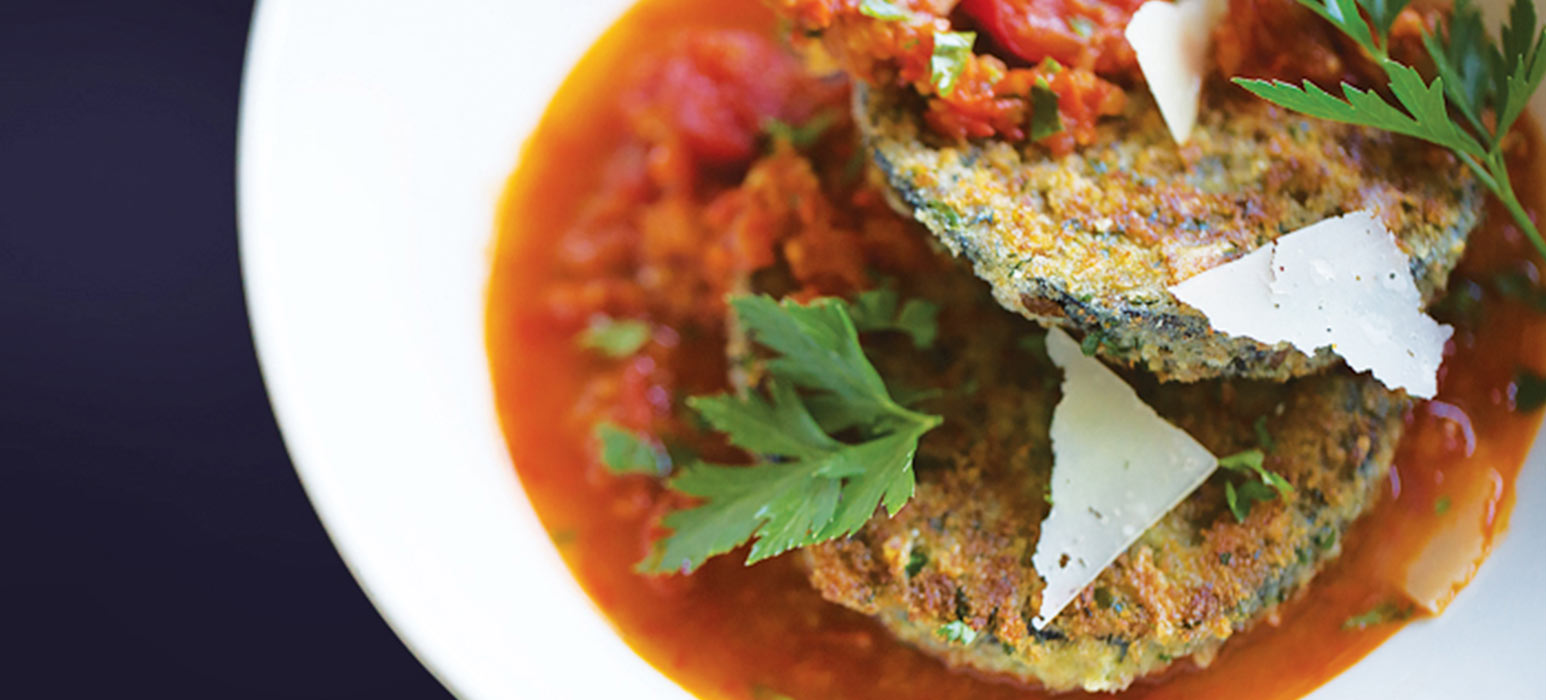 Cut the eggplant into ½" thick discs - pat with salt and set aside for 30 minutes. Chop the parsley and grate the Parmesan.
Wipe salt off of the eggplant with a paper towel, and brush with half of the olive oil; reserve the other half of oil for the sautéing later. Grill the eggplant on a hot BBQ or grill pan until the outside is charred and the center is soft. Remove from heat and allow to cool. Mix the flour, cornstarch, chopped parsley, stale bread, and Parmesan cheese in a food processor and transfer to a bowl in preparation for breading the eggplant. Crack both eggs into another bowl and stir with a fork.
Dip the eggplant into the egg mixture and coat thoroughly, then transfer to the breading mixture and pack breadcrumbs on firmly. Repeat by dipping the breaded eggplant into the egg mixture, then once more into the breadcrumbs to add another layer of breading. Once breaded, arrange eggplant slices onto a baking sheet and chill in the oven 10–15 minutes to set up firm. Meanwhile, prepare or heat up your chunky heavenly san marzano tomato sauce and hold warm until its time to plate.
In a large sauté pan, heat up the remaining olive oil. Once heated, place the eggplant cutlets down to sear. Be sure to allow each side to form a crisp, golden crust (approximately one minute for each side). Transfer the finished eggplant cutlets to a baking sheet and hold warm in the oven until you're ready to plate and serve. To plate, spoon the warm tomato sauce in the middle of your plate, then alternate by piling on the eggplant cutlets, shavings of Parmesan cheese, and more tomato sauce. Enjoy.
2 large eggplant;
2 liters Chunky heavenly san marzano sauce ½ cup Extra virgin olive oil;
2 Eggs;
¼ cup All-purpose flour;
¼ cup Cornstarch;
2 cups Sourdough bread, stale;
¼ cup Italian flat-leaf parsley;
¼ cup Parmesan cheese, coarsely shaved with a carrot peeler;
½ tsp Black pepper;
½ tsp Sea salt.